Hard-hitting viruses which originated in China include Mers and Sars, but these two killer diseases never reached the rest of the world. But Covid-19 did. Responsible for thousands of deaths, people around the world have been receiving daily updates regarding confirmed cases, reported death tolls, hospital updates (there are new hospitals being build worldwide specifically for the purpose of providing treatment to coronavirus patients) and so much more. Here are some (not all – we would be here forever if we focused on every update in every country!) of the grim updates in some of the main countries across the globe.
Contents:

November 2019

>> December 2019

>> January 2020

>> February 2020

>>March 2020

>> April 2020
November 2019
Chinese Government records and whistle-blowers have allegedly suggested that the first case was found on 17th November – over a month before any official announcements were made.

A Chinese news company shared: "According to the government data seen by the Post, a 55 year-old from Hubei province could have been the first person to have contracted Covid-19 on November 17.

From that date onward, one to five new cases were reported each day. By December 15, the total number of infections stood at 27 – the first double-digit daily rise was reported on December 17 – and by December 20, the total number of confirmed cases had reached 60."
December 2019
On 30th December, Li Wenliang, an ophthalmologist at Wuhan central hospital, warned medical colleagues via China's main social media platform 'WeChat' about a mysterious virus. Due to the lack of privacy measures in China, he was soon detained by police in Wuhan on 3 January for "spreading false rumours".

On 31st December, the World Health Organisation was told that a handful of people in the city of Wuhan, China had pneumonia. There was one thing which connected the patients: The Wuhan Seafood Market. Many initial cases were linked to people who worked at the market which sells live fish, birds and other animals. The market was closed on January 1st.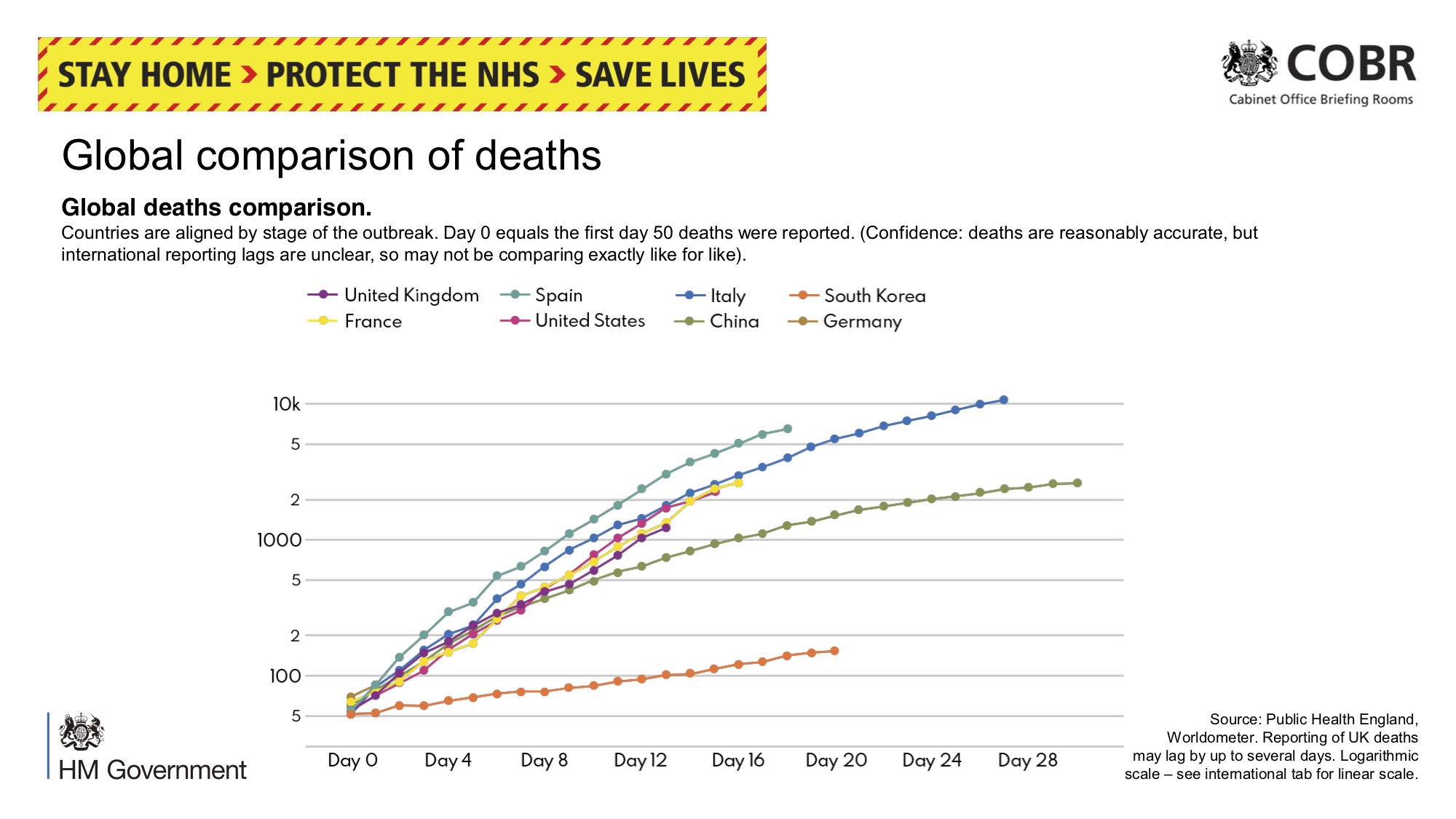 January 2020
On 7th January, Chinese authorities explained that they had determined the cause of the virus: a new virus from the 'coronavirus' group, which includes SARS and MERS. 18 years ago, the SARS outbreak began in China and killed 800 people between 2002 – 2004.

On 9th January, the first death was confirmed: a 61 year old man who regularly visited the Wuhan wet food market. By this time, 41 people were known to be infected, although officials claimed that there was no evidence that the virus could spread between humans.

Cases were reported as follows:
13th January – Thailand reported its first known case;

15th January – Japan reported its first known case;

20th January – South Korea reported a case.
It was on this day it was confirmed that the virus can pass between people.

21st Jan – 282 cases were reported from the four countries (with the majority in China);

22nd Jan – 314 cases confirmed, including 16 healthcare workers;

23rd Jan – The figure rose to 581 cases.

23rd Jan – Wuhan was put under quarantine. Everyone in public was told to wear a face mask and the government arranged 300,000 extra masks to ensure everyone had one. At 2am, it was announced that all public transport was to be stopped and that anyone wanting to leave the city had 8 hours before all exits would be closed. By 10am, Wuhan – a city with over 11 million citizens (it's bigger than London!) – was locked down. A new 1,000 bed hospital began development, with the intention of treating those with the virus there and it was completed in days.

30th Jan – The World Health Organisation declared coronavirus a 'public health emergency'. Another 82 cases in 18 countries (including America, France, Germany, Italy, Spain and Vietnam), had been reported across the world, although no more deaths were reported outside of China.

31st Jan – Two members of a family in England were confirmed to have the virus. And in China? They had reported 2,000 new cases within the 24 hour time period. The worldwide total had reached 9,800 cases across 21 countries.

America declared a public health emergency and said that entry would be temporarily suspended for foreign nationals who have been in China in the last 14 days, despite people across the world now suffering from the virus.
February 2020
1st February – Three more countries reported having the virus and Australia began refusing entry to anyone travelling from China… Again, the virus had already travelled the world by now. Australian nationals would be allowed in, but with a forced 14 day quarantine.

The UK, Singapore, South Korea and New Zealand took longer to do this, allowing the virus to needlessly spread.

2nd February – The first known death outside of mainland China was reported in the Philippines: a 44 year old Chinese man from Wuhan.

4th Feb – The second death outside of mainland China was reported in Hong Kong.

8th Feb – The man who tried to alert others about the virus (and was forced to apologise for his lies) passed away.

11th Feb – Over 43,000 cases had been confirmed and Chinese officials admitted that over 1,000 people in the country had died, but that the new infections per day had begun to decline.

In mid-February, experts explained that the coronavirus had killed around 3% of those infected. It has infected more people than SARS, but killed fewer (SARS killed an estimated 10% of sufferers).

Some governments were more overwhelmed by cases than others. Italy and Spain were put on lockdown, along with many other countries. But here we are in Britain, on 18th March, being 'recommended' to stay indoors…
March 2020
On 11th March, the World Health Organisation officially designated Covid-19 a pandemic. Countries across the world have announced quarantines, curfews and the closing of businesses.

11th March – In Italy, 12,462 cases have been confirmed along with 827 deaths. In Spain, 8,271 cases are confirmed. As countries lockdown worldwide, 67,000 people crammed into a stadium in Spain's capital to watch Athletico Madrid take on Liverpool… Yeah, really.

17th March – Angela Merkle announced that the EU would be closing its borders to all non-EU members.

18th March – Italy reported the highest one-day death toll in the world at almost 500 people. Videos on social media show military trucks on the roads, preparing to transport the deceased. Mortuaries and crematories had been reporting that they've run out of space and there are around 200 intensive care units being built to be created by the end of March.
Italian authorities are considering extending the lockdown beyond 3rd April. 10 doctors had died by then and over 2,000 had been infected. They're fast-tracking the graduation of medical students and are turning to the private sector for help. 3,000 Chinese doctors brought their expertise to Italy and essential health precautions are being prepared.

18th March – Canada and America closed their borders for non-essential travel and Canada announced an $82bn 'aid package' rescue plan.

18th March – UK reached almost 2,000 confirmed cases and finally started to take it more seriously, with the announcement of schools and nurseries closing after Friday 20th March, except for children with parents working in essential industries like the NHS. The government's announcement, however, was vague and confused childcare companies and parents.

23rd March – UK went into lockdown for a minimum of 3 weeks as the death toll reached 335. Police have been given the power to enforce fines and disperse gatherings. Prime Minister Boris Johnson announced that people will only be allowed to leave their homes for basic necessities, including food and medication, exercise limited to one hour a day and travelling to work if "absolutely necessary".

23rd March – Spain reported a rise to 33089 cases and 2182 deaths while Italy reported 63927 cases and 6078 deaths.

24th March – UK's death toll rose to 422 – an increase of 87 in a day.

Brazil's largest city, Sao Paolo, is ordered to close all non-essential businesses and services for two weeks, and during the televised announcement, President Jair Bolsonaro calls the coronavirus "a little cold". It sparked an almost daily protest, with Brazilian citizens banging pots and pans from their windows to challenge the downplaying of the virus.
Over 5,500 Brazilians have caught the virus and over 2,000 have died.

25th March – The Queen of England's son and heir to the throne, 71 year old Prince Charles, tests positive. He announced that he was testing negative just 4 days later, on 29th March.

The Brazilian President also called the virus a 'media trick', instigating country-wide protests…
26th March: Global positive cases surpassed 500,000 – bear in mind that tests weren't as available until now, so prior results weren't guaranteed. There have been more than 26,000 deaths globally.

The UK Prime Minister, Boris Johnson and the Health Secretary Matt Hancock announced they'd tested positive and are displaying minor symptoms.

28th March – The German State Minister committed suicide after having a breakdown about the state of the economy.

China banned entry of ALL foreigners into China, regardless of whether they have residency, a valid VISA or have a family living there. Only Chinese ID holding citizens will be welcomed into the country. Officials have been telling citizens that the 'second wave' of the spread was caused by people entering the country, which obviously isn't true.

30th March – England reported that as of 9 a.m., 127,737 people have been tested. 108,250 have tested negative. 19,522 have tested positive. 1,228 have died.

31st March – Spain's death toll rose to 8,189 – with 849 deaths over the past 24 hours.
What else is going on?
Despite over 300 people in Florida having confirmed cases, it was announced that beaches would be being kept open, with groups limited to 10 people. British people were 'advised' to stay indoors, but National Parks have been allowing people free entry so we can get exercise.

Some governments are offering financial aid to airline companies who have had to ground planes and cut jobs. In America alone, airlines have requested over $50bn in loans, plus billions more in tax relief.
April 2020
1st April – In England, 152,979 key workers have been tested, with 29,474 confirmed 'positive' results. Hospital admissions have reached 10,767, including 3,915 in London alone. The reported 2,352 deaths included an increase of 573 in 24 hours, including a 13 year old boy.

#DoNotResuscitate went viral in the UK as vulnerable people shared letters from their doctors asking them to sign DNRs in case they get sick.

2nd April (7 days later) – Global positive cases surpassed 1 million – even more tests are available by this point. The global death toll surpassed 53,000.

8th April – Spain was reported to have the second highest death toll per capita with deaths at almost 15,000

12th April – UK's death toll surpassed 10,000

13th April – Italy's death toll surpassed 20,000, with over 160,000 cases confirmed

14th April – USA had their highest daily death rate so far, with 2,405 in 24 hours, causing their total death to surpass 26,000.

14th April – Spain surpassed 18,000 cases, with over 177,000 cases confirmed.

15th April – There have been over 126,000 deaths and the world reached the 2 million reported cases milestone.

15th April – It's obvious that something suspicious is going on in the dictatorships of China and Russia. China has confirmed 82,295 cases and reported just 3,342 deaths, while Russia has confirmed 24,490 cases and 198 deaths.

27th April – The global death toll surpassed 206K – TWO HUNDRED & SIX THOUSAND.
The UK surpassed 20,000 deaths, Italy reported over 26,000 and America recorded more than 55,000.